Automated Storage and Retrieval Systems (commonly referred to as ASRS systems) are most commonly used in manufacturing and distribution facilities. They typically replace large areas of shelving to save floor space, improve safety and increase productivity. With varying technologies and applications, it can be a bit overwhelming researching ASRS systems for the first time. Have no fear. We've put together a one-stop "Intro to Automated Storage and Retrieval Systems" for you complete with defintion, technology differences, primary benefits, common applications and signs it's time to start considering ASRS. Class is in session!
What is ASRS? Automated Storage and Retrieval System Definition
Automated Storage and Retrieval Systems are just that – automated systems that efficiently and securely store items in a compact footprint. They also allow users to easily and quickly retrieve items when needed. Several companies manufacture a wide variety of self-contained, goods-to-person, automated storage and retrieval systems (ASRS). The technologies handle different volumes, types and velocities of non-palletized inventory at variable speeds to accommodate varying throughput demands. When considering the options, keep in mind both the storage density your facility needs as well as your throughput goals.
Types of Automated Storage and Retrieval Systems
Automated storage technologies can be broken down into three categories:
1. Shelf based picking - an entire shelf or tray of product is delivered to an operator
2. Bin based picking - an individual bin or tote is delivered to the operator
3. Robotic picking - delivery robots are operating within some type of enclosed shelving system to deliver goods to an operator
Shelf and Tray Picking Technologies
Vertical Carousels
A seasoned veteran, the vertical carousel has been around for decades. Manufacturers add new bells and whistles with each revision, but the heart of the technology remains the same. Comprised of a series of carriers attached to a chain drive, a motor powers the carriers' bi-directional travel in a vertical loop around a track—similar to a Ferris wheel. These automated storage and retrieval systems deliver slow- to medium-velocity items safely and quickly to an ergonomically positioned work counter at the operator's command.
Offering throughput at rates of 100 to 400 lines per hour, higher rates can be easily be achieved with the addition of light-directed picking technologies and batching stations that allow picking of multiple orders simultaneously. Offering capacities of 1,650 pounds per carrier, the vertical carousel is a reliable and cost effective solution that shouldn't be overlooked.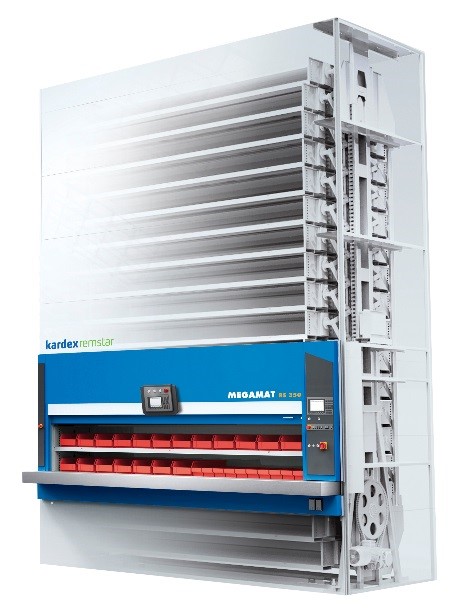 Horizontal Carousels
Not the prettiest technology on the market today, but the horizontal carousel gets the job done fast. Consisting of highly dense storage bins mounted on an oval track that rotates horizontally to deliver slow- to medium-moving product storage locations to an operator, these automated storage and retrieval systems handle both items and cases weighing up to 200 pounds.
To generate maximum picking speed and throughput, they are often installed in groups, known as pods. This allows a picker to access product from one carousel while others spin to queue up the next required item, yielding throughput rates up to 600 lines picked per hour—achievable with light-directed picking technologies and batching stations that allow simultaneous fulfillment of multiple orders. In addition, horizontal carousels offer excellent space utilization and high storage density. If looks matter in your operations, you can always pretty these up with an automated door system, creating an enclosed solution.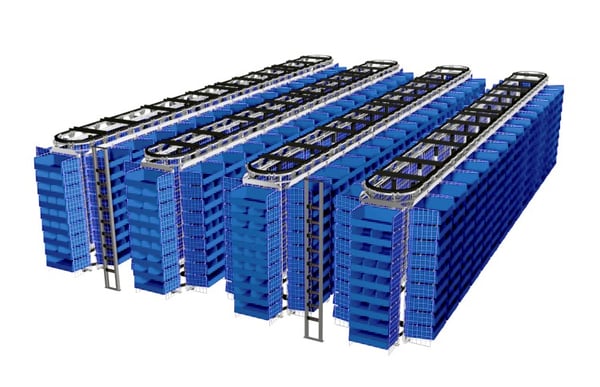 Vertical Lift Modules (VLMs)
The most flexible technology in this category, the vertical lift module is engineered to automatically adjust when your inventory changes. With trays capable of handling up to 2,200 pounds, these enclosed automated storage and retrieval systems consist of two columns of trays with an inserter/extractor in the center. The inserter/extractor automatically locates and retrieves stored trays of slow- to medium- velocity items from both columns and presents them to the operator at a waist-high pick window at rates from 125 to 475 items per hour.
Systems used to store the heaviest items can be equipped with automatic tray extractors and an overhead crane and hoist to help operators handle and maneuver their picks.
Because the height of the items placed in each storage tray is measured as it is put away, the VLM stores the trays dynamically—as close as one inch apart—to maximize storage density, saving up to 85% floor space. The VLM is a great technology choice for businesses with changing inventory sizes.
Bin and Tote Delivery Systems
Crane-Based Mini-Load AS/RS
Big and bold, mini load systems handle lightweight loads with ease. With a single, crane-mounted load handling device dedicated to each extremely dense storage aisle, mini-loads handle loads in cases, totes or trays that weigh between 220 and 750 pounds. The cranes travel either on rail or wheel with fast acceleration speeds to delivery product to the operator.
Ideal for slow moving items, mini-loads are capable of delivering 1 load per minute, for throughput rates of 60 to 100 lines per hour. If you've got 5,000 plus totes to store, this big guy might be for you!
Vertical Buffer Modules (VBMs)
The new kid on the block, the vertical buffer module bin handling system was designed for smaller applications that can't cost justify a large expensive solution. The VBM consists of an enclosed shelving system with a movable mast running down a center aisle for picking and storage of totes. The unit is designed to be able to work ahead of the operator and queue up the next pick for maximum throughput of the system.
Totes can be delivered to an ergonomic turntable picking station or can be automatically handled via inbound and out conveyor. The machine can also be configured with a manual station for replenishment of totes during picking operations. This way picking never needs to be interrupted for replenishment activities.
Multiple units can be connected via conveyor and totes can be delivered to remote picking stations. The system is designed to be modular, scalable and highly energy efficient. Give the new kid a chance and he could turn out to be your new best friend.
Robotic Delivery Systems
Robotic Shuttles
The beginning of the robot invasion, this solution uses robotic shuttles to travel independently from level to level. They do so by riding on narrow rails at each storage level. They retrieve stored items at high speeds, with throughput ranging from 200 to 700 lines per hour.
Handling cases, totes or trays weighing from 35 to 65 pounds, these automated storage systems can deliver increasingly higher throughput based on the number robotic shuttles inducted into the system.
These systems are modular, scalable and flexible. This means they can be expanded with minimal structural modifications as business needs change. Go grab a coffee and let the robots do the picking.

Floor Robots
Why go to the shelving when the shelving can come to you? This solution stores inventory on portable storage shelving that is retrieved and transported from storage to an operator access area by a fleet of autonomous, mobile robots. After the operator selects the required item or items from the shelf, the robot returns it to storage. Ideal for slow to medium velocity inventory, throughput ranges from 100 to 300 lines per hour. Throughput can also be expanded easily with the addition of more robots.
The standard weight capacity of 1,000 pounds per shelving system can be increased with the heavy duty model handling up to 3,000 pounds per shelving unit.
For more on robots, check out this MHL article.

10 Signs it's Time for ASRS Systems
Replenishment Overload – If workers is spending just as much time replenishing as they are picking you're wasting time – consider automation!
Extensive Travel Time – If workers are wasting time traveling several miles during a shift to access inventory – consider automation!
Excessive Search Time – If, upon arrival at a picking destination, workers must spend time visually search for the correct item and match up part numbers – consider automation!
Rising Picking Errors – If picking errors are on the rise, wasting money and risking your company reputation – consider automation!
Struggling Throughput – If you're struggling to keep up with order cut-off time, or hiring seasonal workers to keep up with demand – consider automation!
Damaged Items – If valuable inventory is often found damaged and unusable – consider automation!
Misplaced Inventory – If inventory is frequently misplaced or temporarily lost – consider automation!
Pilfered Product – If inventory is often unexplainably missing – consider automation!
Facility At Max Capacity – If you're building is bursting at the seams and there's no room for growth – consider automation!
Risk of Operator Injury – If workers are at risk of injury – consider automation!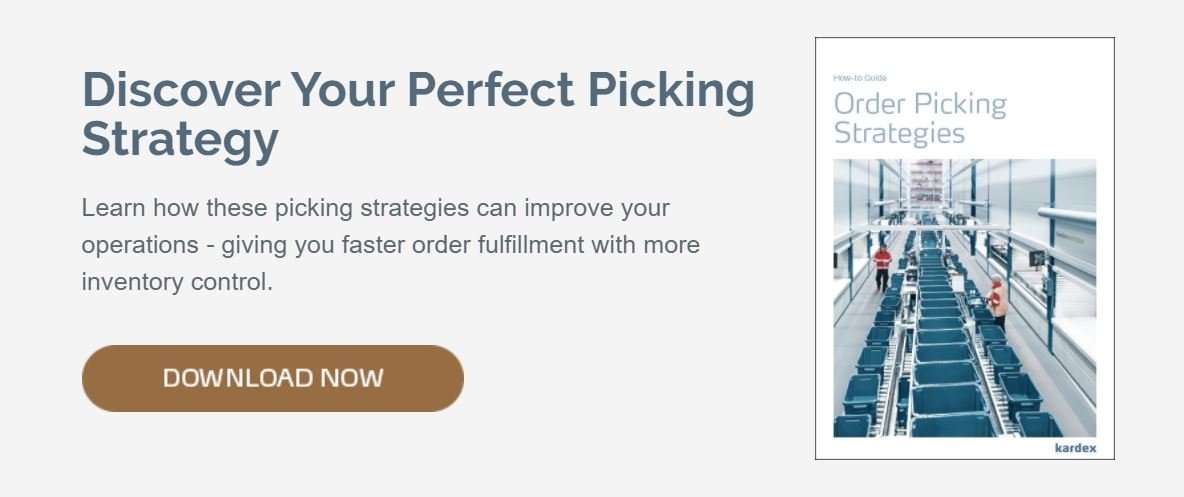 Common ASRS Systems Applications
These automated storage systems are used to manage small parts inventories, sub-assembly, work-in-process, maintenance and repair parts and large tools and dies in a variety of applications found within manufacturing and distribution facilities. Common applications include:
Storage: Providing high density storage parts and components used in a manufacturing process
Order picking: Offering compact, fast and reliable access to items required for distribution, bringing stored items to the operator for fast order fulfillment, supported by software integration
Kitting: Managing the process of receiving inventory, group (kitting) component parts for assembly and storing kits until required
Order Consolidation: Providing a compact solution to temporarily hold incomplete orders awaiting additional items before shipment
Buffering: Offering a highly dense storage solution for inventory or process buffering
Assembly: Storing work-in-process or sub-assemblies for later use
Tools, Dies & Molds: Ergonomic and secure handling of heavy and often expensive tooling required in an automated production process
Maintenance & Repair Parts: Providing compact storage of maintenance parts onsite to reduce downtime
Replenishment & Returns: Managing inventory for replenishment and returns processes
High Value Items: Offering a secure, safe and enclosed storage solution
Retail & Service Centers: Providing storage for a variety of items behind a customer service desk for quick access and increased customer face-time
Controlled Environments: Provides cold, clean and dry management of storage
Benefits of Automated Storage and Retrieval Systems
There are many benefits of Automated Storage and Retrieval Systems – the biggest ones are space, productivity, accuracy and ergonomics.
Space: Using ASRS can save up to 85% floor space when compared to traditional shelving systems.
Productivity: By delivering stored items directly to the operator, automated storage can increase worker productivity by 66% and speed throughput.
Accuracy: Automated systems integrate with pick to light technologies to direct the worker to the exact location of the item, reducing picking errors and increasing pick accuracy to 99.9%
Ergonomics: ASRS technologies deliver stored items to an ergonomic access point, eliminating bending, lifting, stooping and reaching – drastically reducing the risk of injury for workers.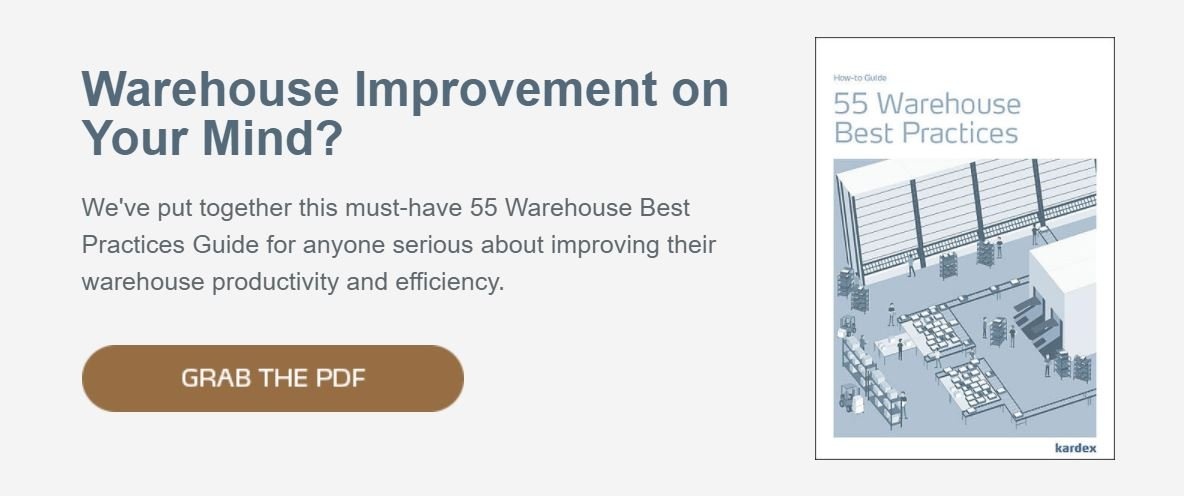 Automated Storage and Retrieval System Costs
Because every ASRS system is modular and fully customized to your particular application and space requirements, costs can vary widely. Important factors that affect ASRS system cost include available vertical space, new vs used equipment, controlled environment needs, load type, and software integrations. ASRS systems can range anywhere from $50k for a single standalone unit to hundreds of thousands of dollars depending on project scope.
If you'd like to speak with someone who could assess your needs and application, and provide a cost estimate: