Using bins, totes and dividers to manage your inventory and tools within their current home whether it be static shelving and pallet rack, or even automated storage and retrieval systems (AS/RS) is worth the investment.
Typically made of durable plastic, bins and totes can be reused over and over. They are easy to clean and hygienic, resist water and chemicals, and—because they're molded to a specific dimension—are always consistently sized. For all these reasons, they last exponentially longer than corrugated cardboard (which also creates dust). They also come in a virtually endless range of materials, including special blends that dissipate static electricity or are fire retardant, for use in specialized applications.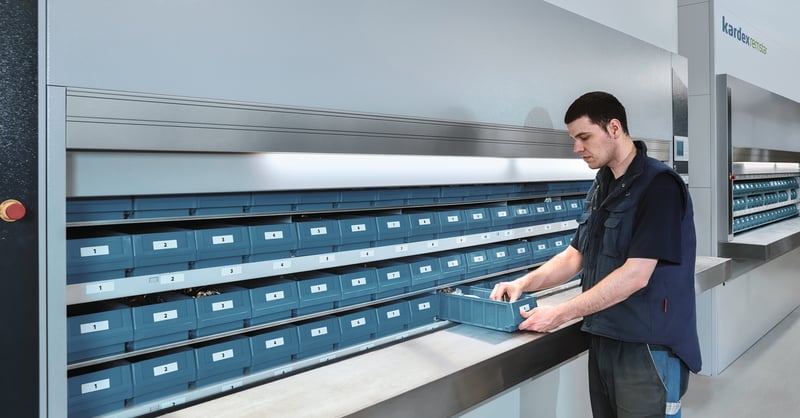 Dividers are used to create smaller compartments within a tote, bin or automated storage system tray or carrier. Also frequently made of plastic, they make a selected container perfect for its specific application. The dividers not only create unique spaces within a container for item segregation, they can keep kitted parts together (yet separate), as well as provide stability for fragile or delicate items. Some operations even use dividers to indicate which section of parts to pick from first to ensure first-in/first-out (FIFO) stock rotation.

Inventory Management Benefits of Totes, Bins and Dividers:
1. Organization
One of the biggest benefits of reusable totes, bins and dividers is their support of warehouse organization. They come in a virtually endless array of configurations, dimensions and colors, allowing them to accommodate a variety of product sizes and types. They're particularly effective for holding bulk quantities of very small parts or items—think washers, screws, contact lenses and more—which can be sorted and handled more easily in dedicated containers.
For a deep dive: 18 Warehouse Organization Ideas to Boost Productivity

2. Maximized Storage Density
An open shelf can have a lot of empty space above an item placed on it. Bins and totes, however, are frequently designed to fit together securely—both stacked and side-by-side—creating an additional level (or levels) of storage within one shelf or rack opening and letting you store more items within the same amount of space. Likewise, within an AS/RS tray or carrier, bins maximize the storage space, ensuring that its full volumetric capacity is filled with product.


3. Part Protection
Products, parts or tooling stored on open shelving—whether in or out of their shipping cartons—might be exposed to dirt, dust and forklift exhaust. At best, this exposure shortens their useful life; at worst, it renders them unsuitable for sale or internal use and forces them to be scrapped. Certain bins and totes can be outfitted with lids or covers further protecting its contents.


4. Increased Accuracy
Many bins and totes offer a spot for labeling the container with alphanumeric codes, bar codes or a combination of both to identify contents. This makes the items stored inside much easier for associates to find, reducing search time and making picking that much faster and more accurate. Further, units that are commonly picked together can be stored near or next to each other for kitting and even higher throughput.
For a deep dive: 5 Tips to Improve Picking Accuracy


5. Increased Productivity
In picking applications in particular, bins and totes with partially open fronts—called hopper-front containers—give operators a clear view of the contents. Because these containers don't have to be opened or removed to see what's inside, they make picking items faster and easier. These containers are often designed to stack on top of each other and feature a lip that allows them to hang on walls or louvered panels. They can also be outfitted with clear lids to keep contents fully protected, yet still visible.


6. Improved Appearance
Using plastic totes, bins and dividers within storage systems simply looks better than disorganized stacks of parts or products sitting haphazardly on shelving. Further, using corrugated cartons for organization doesn't enhance the look of a facility. Plastic totes and bins transform a workplace environment visually; colors that match your company branding can even be used. Plus, a facility that looks neat and tidy can motivate associates to take pride in the appearance of their own work areas and inspire happiness.
Totes, Bins & Containers
We're so passionate about warehouse organization here at Kardex Remstar, that we offer our very own line of container systems designed exclusively for our Vertical Lift Module & Vertical Buffer Module product families. With various heights, widths and depths available, the VLM Box offers over 300 location types with. See how they work:


Totes, bins and dividers are easy to find - but finding the right fit can sometimes be a challenge. Beyond our VLM Box, our go to supplier and BFF is Flexcon Container —offering both standard and custom configurations. However, to get the most out of your investment, make sure you work with a supplier who will take the time to evaluate the products you'll be storing and the equipment they'll be used with. Otherwise you may choose a container that doesn't fully maximize your space or could cause damage to the items it holds.