Depending on your operation, a well-executed kitting process can save you labor or time… and in some cases both! Pre-assembling or combining a group of individual items into a ready to use kit prior to storage allows for quick retrieval when the kit is needed.

The Two Major Types of Kitting


Manufacturing Operation
In manufacturing the point of kitting is to protect the time of the highly skilled (and highly paid!) labor working the manufacturing line. You wouldn't have your defensive line filling water bottles during the football game, right? Same goes for the manufacturing line – keep them focused on what they do best – manufacturing.

Use entry level labor to sort, organize and if possible pre-assemble parts into kits, delivering them to the manufacturing point of use just in time. Do not ask your manufacturing line to search through inventory to locate the parts they need. This takes them away from the value added work they are paid to perform and lowers your overall productivity.

Warehouse and Distribution Operation
In warehouse and distribution kitting is also known as "product bundling" and the goal is time savings. With the demand for faster delivery growing every day, the quicker you can pick, fill and ship orders the better. Upon receipt, un-packaging and grouping similar or like parts together and storing them into inventory as a kit saves retrieval time.

Review your data to identify SKUs that are commonly shipped together. For instance, if you find that often when an order contains pretzels it contains beer (because who orders pretzels without beer, right?) evaluate if there is a time savings benefit to kit these items together prior to storage.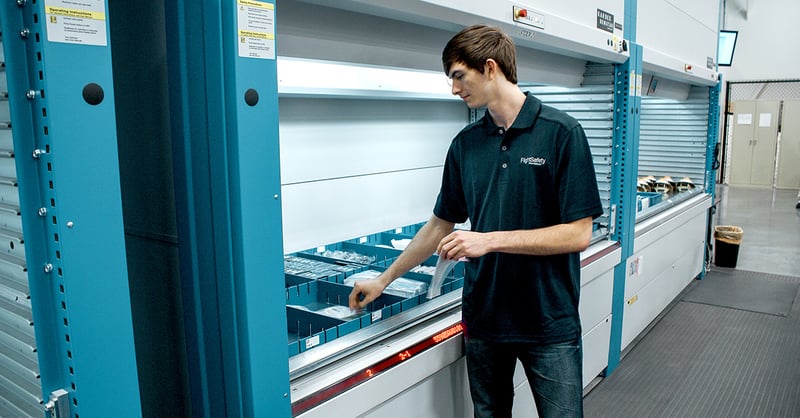 Also consider kitting SKUs included in special product offers. If you're running a promotion "buy this get that", consider kitting these SKUs together for the longevity of the promotion. Note that communication between the sales and marketing function and fulfillment center is critical here. The individual items keep their original SKU numbers for storage, but a portion of the received inventory is kitted with additional SKUs and stored as a new SKU number in the system. For example, if 100 baseballs, 100 bats and 100 gloves are received – you may choose to receive into inventory 20 individual baseballs, 20 individual bats, 20 individual gloves and 80 baseball kits to speed order fulfillment.

Automate The Warehouse Kitting Process For Maximum Benefits
Now, here's the catch – manual kitting can often be a space-hogging operation. A Kitting process using low-density static shelving waste an excessive amount of floor space and require operators to travel among multiple storage aisles seeking specific items or kits – working against the time savings you are trying to achieve in the first place.
Utilizing an Automated Kitting System that incorporates an automated storage and retrieval machine — such as Vertical Carousel Modules, Horizontal Carousel Modules, Vertical Lift Modules (VLMs) or Vertical Buffer Modules (VBM) — to store individual parts and completed kits creates a high-density, space-saving kitting operation.

How an Automated Kitting System Works:
Individual items are organized and stored individually in totes, bins or sub-divided trays and stored within an automated storage and retrieval system. For maximum picking efficiency, the system's internal Power Pick Global inventory management software automatically stores items for the same kit close together.

When it is time to assemble the items into specific kits, the operator uses the automated storage and retrieval system as an order picking system, batch picking multiple kits into totes located on a conveyor or batch station.

After the operator assembles the kits from the selected parts, the completed kits can be re-stored in the same storage device using a unique part number or transferred to another zone.

When kits are needed, an operator accesses the storage location and retrieves the kit(s) and routes them to the next destination (assembly line, order consolidation, packing, etc.) quickly and easily.

Benefits To Expect by Automating your Warehouse Kitting Process:
Fast and efficient system for storage and picking of parts and kits

Eliminates operator travel time

Limited access ensures security of contents

Uses 1/3 the energy of mini-loads and multi-shuttle systems

Kits are delivered in sequence to the assembly area to support just-in-time manufacturing

Case Study: Flight Safety
In coordination with a new facility the stockroom implemented four Vertical Lift Modules to manage components and kit inventory. The new automated picking and kitting process has reduced stockroom labor requirements by 86%, increased accuracy to 99.9% and reduced floor space by 85%. Read more here.