With e-commerce demand skyrocketing warehouse and distribution centers are having to adjust their full case picking operations to accommodate split-case picking to fill orders directly for consumers.

Due to COVID and supply chain disruptions - shopping, both online and in-store, looks completely different today than it did two years ago, and no one could have predicted the trends emerging today. E-commerce sales are at an all-time high and show no signs of slowing down. Despite constrained supply chains, consumers still expect fast, accurate and on-time deliveries.
Let's look at how you can diversify your operations to accommodate split-case picking to meet long term consumer demand.


What is split-case picking?

Split-case picking is picking individual items (also known as broken case picking, piece picking, and/or each picking) and putting them directly into shipping containers to send to customers. The term literally refers to "splitting the case open" – and when you open that case, your order fulfillment strategy needs to adjust. This is very different than picking full cases or pallets and sending them to brick and mortar, retail operations. Split-case picking is more complex and can be extremely labor intensive. However, there are technologies and specific strategies to support the picking process to ensure speed, accuracy and efficiency.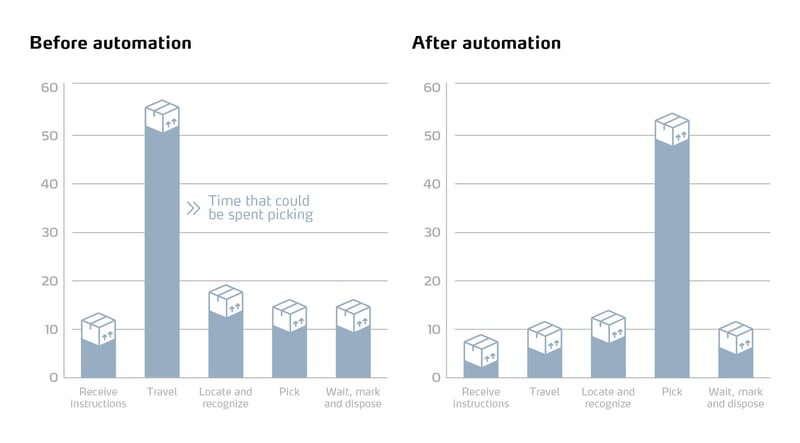 Why should you diversify your warehouse for split-case picking?
It's safe to say, COVID has created new trends in consumer buying habits and global supply chain accessibility. We can't say for sure if these trends will last forever, but it's better to be prepared to accommodate this shift for the long term. In the event there is a second wave of coronavirus, now is the time to evaluate your options to make this transition as seamless as possible. Shopping online is convenient, and this consumer trend isn't expected to go away.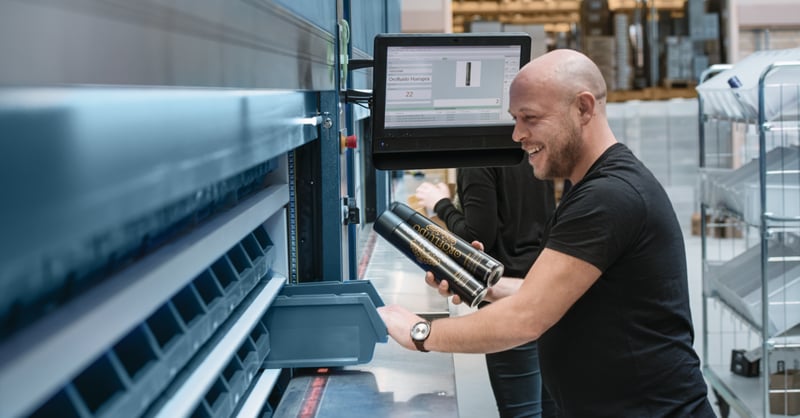 Adjusting your operations now can ensure your operations will be ready no matter what the future holds. Split-case picking, in tandem with your existing full case and pallet picking, opens new possibilities for your business. It not only allows you to better manage seasonal and peak demand, but also allows you to grow your operations to manage e-commerce as a second line of business, increasing your bottom line.

How can your warehouse accommodate split-case picking?


Invest in Technology
To make room for split-case picking in your warehouse, the first thing to consider is automation to maximize space and efficiency. Don't underestimate how much space your product will consume once you open those boxes. While split-case picking can be accomplished from rack and shelving, automated storage and retrieval systems (ASRS) utilize up to 85% less floor space. Cases and pallets don't necessarily belong in ASRS, however, you have to think about smaller eaches, pieces, parts and SKUs now. ASRS can accommodating breaking bulk cases and pallets to store in these highly dense storage systems.



There are several different types of automated storage and retrieval systems available, offering varying rates of throughput and storage density. ASRS operate on the goods-to-person principle, delivering individual items directly to an operator at an ergonomic picking station. To learn about the different types of ASRS, check out this blog post.

Pick-to-Light
Pick-to-light technology can take your ASRS to the next level by increasing accuracy up to 99.9%. When equipped with pick-to-light technology, your automated storage system with pinpoint the exact pick location and display the item number, name and quantity to pick to ensure accurate picking. Since you aren't picking full cases or pallets anymore, it's important to be able to quickly and easily identify the item to be picked to ensure you can guarantee the short delivery window you promised your customer.
For a deeper dive: 5 Pick to Light Technologies For Laser Accuracy.


Picking Strategies
Whether you are picking full cases/pallets or individual items, a picking strategy is essential for your business. There are three split-case order picking strategies to consider:
Pick and Pass
Zone or Parallel Picking
For a deeper dive: 3 Warehouse Order Picking Strategies to Maximize Throughput and Accuracy
If you are handling the bulkier items (full cases and pallets), you might already have a strategy in place. One picking strategy does not fit all, therefore it's important to evaluate the changes you've made to your operation to manage split-case picking. You likely need to consider batch picking multiple orders at once to increase throughput and speed picking. There are different techniques you can incorporate into your existing processes to include picking individual items without slowing down your operation.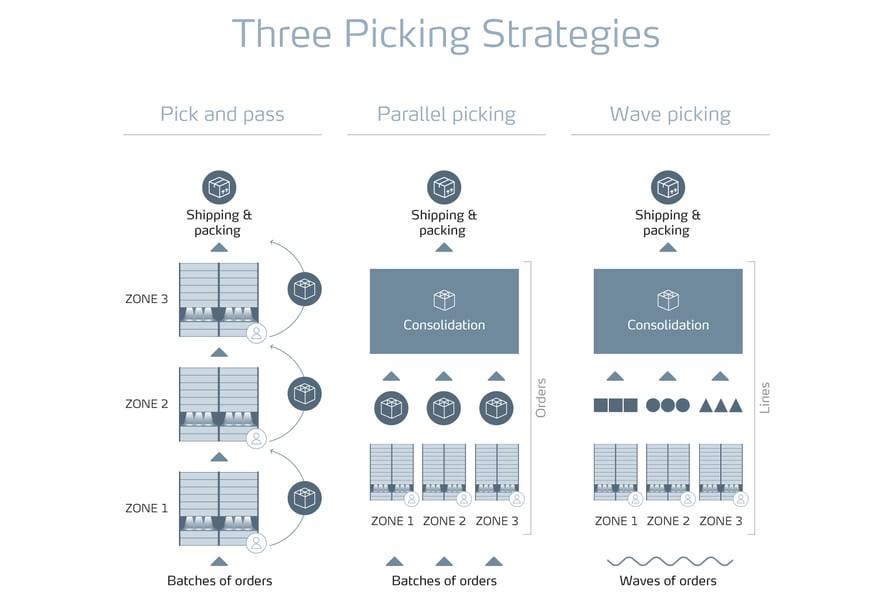 Transitioning Your Warehouse for Split-Case Picking
Making the shift to split-case picking to fulfill e-commerce orders will diversify your operations, opening up a whole new sales channel. As brick and mortar sales continue to recede, you can't afford not to explore the addition of split-case picking for e-commerce order fulfillment.