There's been a steadily increasing labor shortage in the manufacturing warehouse. COVID has only compounded the problem, making the standard "throw more labor at the problem" nearly impossible. Not only is labor harder to find (as baby boomers age out of the manufacturing workforce, the next generation isn't so eager to replace them), it's harder to keep the labor you have (worker retention is more difficult than ever). There is a silver lining - in many cases automation can solve labor challenges.
The steep decline in available workers is a top challenge in manufacturing and warehousing facilities nationwide. There simply aren't as many willing and able individuals as needed to fill job openings in manufacturing, material handling and logistics, as The U.S. Roadmap for Material Handling & Logistics noted:
…the retirement of baby boomers will substantially dampen growth in the labor force for the next decade. Although not unique to material handling and logistics, this issue is especially pressing because so many current workers are close to retirement.
Further, as retiring baby boomers take their unique skills with them, replacing them with new workers of equivalent skill sets has proven difficult. A survey of manufacturers found that 67% report a severe labor shortage of qualified workers—a trend that 56% of respondents expect to worsen over the next decade. The same survey estimated 5% of American manufacturing jobs (600,000 positions) remain open due to a lack of qualified candidates.


For a deeper dive: Attracting Millennials to Your Warehouse Workforce
To make matters worse, COVID has had a lasting impact on the workforce - causing many workers to leave the workplace completely - some left to care for children or other family members while others reprioritized their work-life balance and opted to leave the warehouse for a job with a more flexible schedule.

To compensate for these workforce challenges—fewer workers and the skills gap—more companies are investing in automated solutions. These technologies help to both reduce the physical demands of warehouse activities, as well as streamline and organize the required tasks for better productivity with fewer workers.

Eliminate Travel Time
In a conventional storage system, manual fulfillment can account for as much as 60-65% of a workers' time. However, with automation, goods are brought directly to the worker operating on the "goods to person" principle. This eliminates the need to walk and search for a part within the warehouse, saving time and increasing productivity. Although we know most baby boomers like their daily walks, taking them at work isn't good for productivity.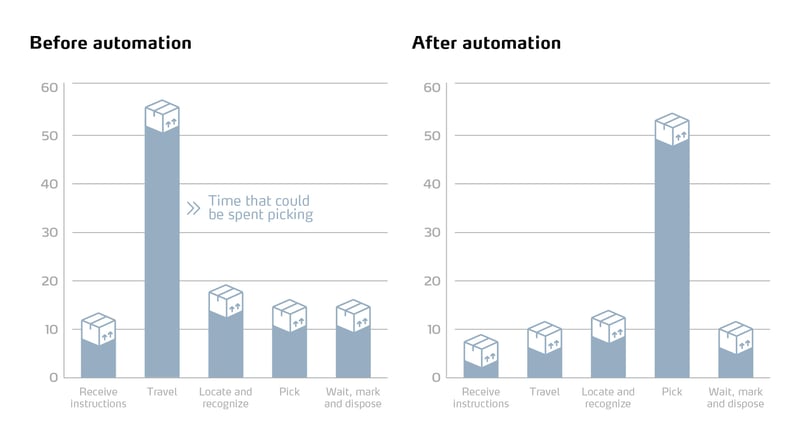 Improved Ergonomics
Stop making your workers bend down to retrieve an item or climb a ladder to reach the highest shelf. This is just an accident or workers comp claim waiting to happen. Instead, automated solutions deliver goods to an operator at an ergonomic height, known as the "golden zone" which is waist height. No more bending and reaching, thus eliminating those worker injuries.
Reduce Search Time
Ever wonder how much time it takes for someone to find the correct item to pick once they reach the storage location? Probably longer than you want to know. Automated storage and retrieval systems can be equipped with light-directed technology to quickly and easily guide the operator to the appropriate pick location. Eliminating all of that search time and boosting accuracy.
Prevent Pick Errors
The opportunity for human error is pretty significant in a manual picking operation. Not only do automated solutions have indicator lights, as mentioned previously, they also can be integrated with message center to communicate with the operator. This tells the operator the exact part number and quantity to be picked.
Optimize Picks
It can be difficult for an individual operator to manually pick more than one order at a time, resulting in maybe 50 lines per hour. For faster throughput, dynamic storage solutions utilize inventory management software to sequence picks which results in faster picking times. In addition, batch picking, grouping orders with common items together can increase throughput by as much as 200%!
Fast Training
A temporary worker unfamiliar with a facility's layout can be stationed at an automated storage and retrieval system for highly productive picking after just a brief introduction to the equipment.
All of these functions can optimize an existing labor force, increasing productivity from 200% to 600%. Because an automated solution enables just one worker to handle the picking assignments of multiple operators, as many as two-thirds of a facility's workforce can be reassigned to other, non-picking tasks, without a loss of throughput. Alternately, implementing these automated storage solutions can compensate for a scarce and declining labor pool—a trend that will only progress as baby boomers continue to retire, and take their valuable skills with them.
...and Gosh Darnit, People Like It
Dynamic storage solutions can be considered attractive and a lot of these products are innovative at their very core. If your facility is perceived as high tech, perhaps you could also attract a younger labor force for the long term and stave off this labor shortage. May the labor force be with you!