Warehouse slotting is the step by step process of analyzing inventory data for the purpose of categorizing and organizing inventory throughout a warehouse or distribution center. The purpose of slotting your warehouse is to maximize the overall efficiency of your operations. By maximizing space utilization and reducing inventory handling, you'll see an increase in productivity and a strategic workflow throughout your facility.

Why Is It Important to Slot Your Warehouse?
Slotting inventory seeks to achieve maximum efficiency and storage capacity.
Common warehouse slotting strategies include:
Improving warehouse space utilization

Assigning proper storage technologies by SKU velocity

Minimizing parts handling

Increasing productivity by minimizing search and travel time to products

Balancing workflow

Improving inventory and accuracy

Enhancing worker ergonomics
Warehouse Slotting Optimization
Warehouse slotting requires a lot of inventory data. To start, it's important to have at least a full year's worth, including any seasonality and projected inventory growth. For companies with a warehouse management system (WMS), inventory slotting software or functionality is often included or can be added-on as an additional module. For companies without a WMS, a standalone warehouse slotting software application can be purchased, or, in certain cases, an Excel spreadsheet may be all that's needed. Alternatively, a third-party consultant can be engaged to perform the slotting analysis and make slotting optimization recommendations.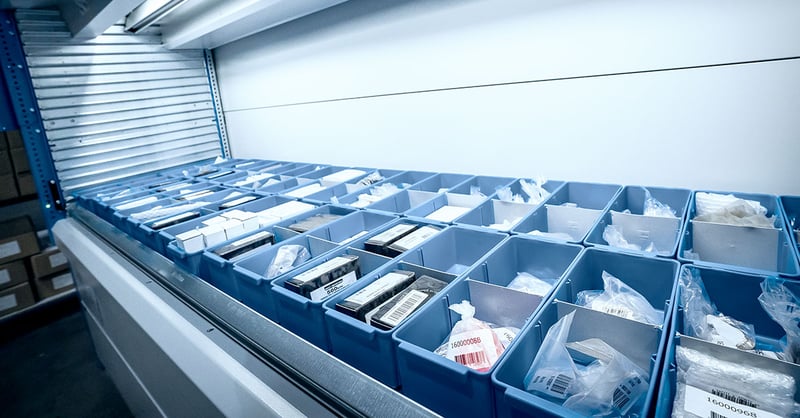 Collected inventory data of a slotting analysis should encompass:
SKU picking methodology

Number of pallets, cartons and broken case eaches of each SKU

SKU hits (the number of times a product is picked)

SKU numbers and descriptions

Pick quantities (number of SKUs picked per order)

SKUs that are frequently picked together

SKU sizes and weights

Total SKU quantity, reorder point and reorder quantity
Slotting Best Practice #1: Slot Inventory by SKU Velocity
Armed with inventory data, it's time to create a warehouse slotting strategy. First, slot each SKU in the proper equipment based on SKU velocity. This means fast and medium movers should be located in the most accessible areas, while slow and very slow movers should be stored in areas that are less accessible, or farther away – common sense, right? Read more about that here.
Slotting Best Practice #2: Slot SKUs by Zone or Technology
Then, determine where within the storage equipment each SKU should be placed. This can get a little trickier. Certain constraints may factor into the slotting strategy. This is where the information about SKU size and weight particularly comes into play, for example, if the product's dimensions or volume make it impossible to store it in the ideal equipment. Also consider how the product is accessed—by hand, ladder, fork truck or scissor lift, for example)—and whether there are opportunities to group SKUs that are commonly picked together in close physical proximity, known as kitting, read more about kitting here.
For medium movers, a general rule of thumb is to maintain a 20 day supply. Less than a 20 day supply requires excessive time for replenishment. More than a 20 day indicates the space could be better utilized for other SKUs.
The most difficult part of warehouse slotting optimization is that it's a never ending process. To have a truly optimized and highly functioning order fulfillment strategy – inventory slotting has to be ongoing. A continuous process of gathering data, analyzing data, making inventory changes and repeat.
Slotting Case Study
Kubota's parts distribution center in Ontario, Canada implemented a zone picking strategy with six Horizontal Carousel Modules, four Vertical Lift Modules and racking to double productivity and recover 83% floor space.