Pick and place robotics are enabling warehouses to manage increased inventory stock, process more orders and meet shorter delivery times.
What are Pick and Place Robots?
Pick and place robots are robotic arms designed to pick items, cartons or entire totes from one place and put them in another - giving them the name "pick" and "place" robots. This solution is ideal for handling repetitive, tedious tasks in manufacturing, warehousing and distribution applications such palletizing and depalletizing, replenishment and simple order picking.
The pick and place robotic arm can be mounted to the floor or to an overhead frame within the working area. The arm is fitted with an end of arm tool (EAOT) or effector - this is the part that physically picks up and puts down the items. Pick and place robots commonly use gripper EOATs including vacuum grippers, pneumatic grippers, hydraulic grippers and servo-electric grippers - depending on the material the arm is moving. Read more about EOATs here.
Pick and place robotics are ideal to support:
Depalletizing & Palletizing
Replenishment
Order picking
How do Pick and Place Robots Work?
The concept is simple - guided by a vision system, the arm picks the item, carton or tote as directed and places it in another location. They can fully automate order picking, palletizing/depalletizing, and putaway/replenishment by picking, handling and placing individual items as well as cartons and entire totes. For example, a pick and place robot can easily pick individual items or cartons from the access opening of an automated storage and retrieval system and put them in order totes, onto a conveyor belt or stack them onto a pallet.
Depalletizing & Palletizing with Pick and Place Robots
Automated depalletizing after an incoming goods area is one of the most established applications using pick and place robotics. Robots can pick items or cartons and place them in standard bins, making depalletizing incoming goods more efficient and less labor intensive. This process can easily be combined with replenishment.
Palletizing is a critical work step with low to moderate efficiency due to poor worker ergonomics associated with it. Pick and place robotics can change that. Many warehouses have automated this process fully by using pick and place robotics to palletize outbound orders after packaging. The robots can either palletize on a pallet roll cage trolley or a container (which is common in e-commerce).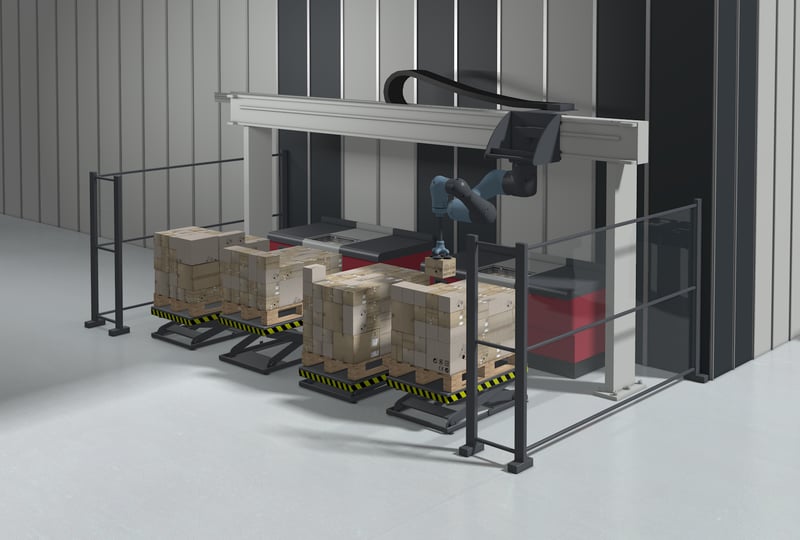 Replenishment with Pick and Place Robots
Easy to combine with the depalletizing process, pick and place robotics can be used to complete the replenishing task. They can automatically pick items or casts from pallets and store them in an automated storage system. This means one single process step for both depalletizing and replenishment.
Additionally, the pick and place robots will support replenishment before or after peak order picking times. In addition to placing individual items in a storage system, the pick and place robots can also manage cartons or totes for improved efficiency and ergonomics.
Pro tip: Pick and place robots use a single part gripper or items or a vacuum gripper for cartons and entire bins. They can automatically change the gripper when necessary.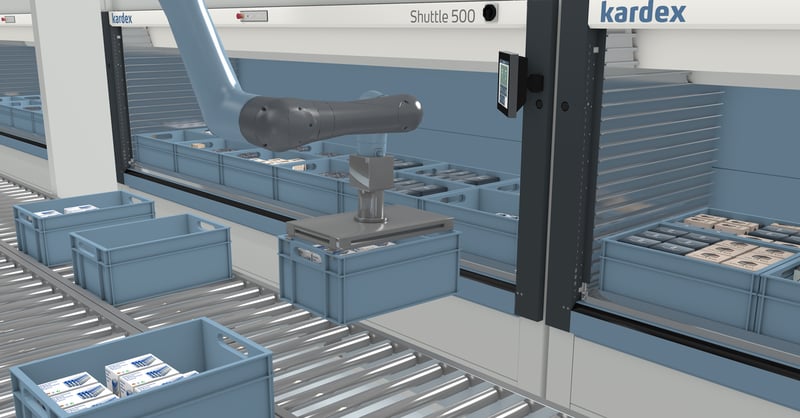 Order Picking with Pick and Place Robots

In addition pick and place robotics are also commonly used for order picking. The robots can pick individual items or parts from a storage system and place them in a bin or on a conveyor for efficient and fully automated order picking. Integrating pick and place robotics into an order picking process provides a fully automated flexible and scalable solution that can be easily adapted as business requirements grow or change.
Pick and place robotics are often used to achieve higher pick rates meeting the delivery times the market requires. Further, they are extremely precise and accurate – reducing the number of returns caused by incorrectly picked and delivered goods.

Pro tip: Combine pick and place robotics with automated transport systems like a conveyor system, AGVs or AMRs automates the processes even further - reducing manual steps and maximizing the robot's full potential (high picking rates and fast transport).