Maintenance and Repair Operations (MRO) inventory includes maintenance supplies, repair spare parts, and consumables used in the production process. This inventory is usually managed in a storeroom within a larger facility. MRO storerooms gets no love. They're often tucked into a corner and ransacked when something urgent is needed – they can end up as a dumping ground for random and miscellaneous parts.

The Changing Importance of the MRO Stockroom
With the trend toward highly productive, multitasking machines and manufacturing processes; quick access to MRO spare parts has taken on a new level of importance. Additionally, many organizations have added mandatory COVID supplies (such as masks and gloves) to their consumables inventory, making MRO even more important. Having the right maintenance, repair or consumable spare part on-site is critical to machine utilization and production uptime. Many organizations are implementing automated storage and retrieval solutions into the MRO stockroom for enhanced storage capacity, better inventory tracking, and quicker part accessibility.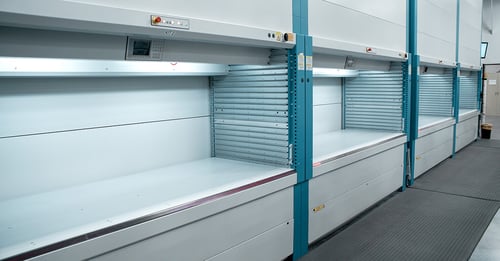 Making the Shift to Preventative Maintenance
With manufacturers today investing millions into automating production and assembly lines losing days, hours, and even minutes in a high speed automated manufacturing line can cost thousands to a manufacturers. What are you doing to prevent downtime?

Production machines have to be serviced and maintained, there's no way around it. If you don't plan equipment maintenance, the equipment will plan it for you (at peak production time probably)– an unplanned downtime can have a devastating impact. More and more manufacturers today are making the shift toward preventative maintenance – planning for the upkeep of the manufacturing line at a time that is best for business.

Even well thought out and planned maintenance can cause unexpected delays. Often, the MRO spare part is unable to be located even though the ERP system says it's available, or when the part is located the quality has eroded and the part cannot be used. In many cases the replacement part cannot be obtained quickly.

Finding parts for a repair is even more critical as the production machine is usually not in working condition. Flying in parts from across the country (or across the pond) and take time and be extremely expensive.

The use of high-density storage systems in MRO stockrooms can provide the inventory control that manufacturers are demanding today. It allows manufacturers to find the MRO spare parts they need quickly, easily and in usable condition. Further, transactions can be logged by user identification; requiring the operator to enter a password before accessing the inventory within the unit. Using the transaction history log you can then get detailed reporting on the operator, the part and the time of the transaction (inventory removed/picked or stocked/stored). If maintenance is done on a night shift have no fear, you will have all of the inventory details recorded. Workers "raiding" the stockroom with no traceability is no longer possible.


MRO Inventory Optimization with ASRS
The increasing importance of the manufacturing processes has put a greater emphasis on consumable parts inventory (gloves, lubricants, fasteners, etc…). No one wants to shut down production on the electrical line because you've run out of rubber insulated gloves. In an effort to avoid consumable inventory shortages, organizations tend to "just order extra"; which leads to over-stocking and can add up to a significant waste of money.


Secure automated dynamic storage solution can provide simple inventory optimization and management ensuring you won't have consumable shortages; but preventing over-stocking – the best of both worlds. With the push of a button the machine delivers the desired consumable to the operator. The operator retrieves the item, confirms the transaction and the on-hand quantity is updated in the system. As inventory nears the minimum quantity level an automated report can be sent to purchasing to reorder the item.
Read More: Solution Guide: Maintenance and Repair Operations

Improving the MRO Stockroom Process
Every minute the production line is down is a minute of productivity you cannot get back- an investment in the maintenance stockroom is your insurance policy. With an automated storage solution you can store MRO parts physically on-site in a condensed and organized area with real time inventory levels and transaction history.