Raise your hand if you did any online shopping during the holidays. Keep your hand up if you're also in the business of processing e-commerce returns and the post-holiday returns rush has you drowning in returned items. Shopping online has been embraced in a big way. A company's return policy is critical in an original sale. UPS did a survey and 79% of respondents said free shipping on returns impacts their decision to buy from an online retailer. Therefore, a documented e-commerce returns process is a necessity and retailers who want to play in the e-commerce space need to give returns logistics a second thought in their overall business plan.

E-Commerce Growth Means Growing Returns Pains
In 2018, U.S. e-commerce retail sales to consumers was expected to approach $525 billion—a 15.9% jump over 2017. By 2020, online sales are projected to top $660 billion, and analysts project U.S. online retail sales will surpass $1 trillion by 2025—a compound annual growth rate (CAGR) of nearly 10% over the next decade.
Yet with all those parcels arriving in the mailbox or on your doorstep, there are bound to be some returned goods - 1.4 million packages to be exact. After all, unless you are buying something you've already seen in person, your e-commerce purchase was highly dependent on an image or text describing a product – whether generated by the online merchant or reviewers who have experienced it.
If you're like me, you probably did more than your fair share of shopping online (and off) before the holidays. But just how many returns do e-commerce operations experience, and why?
Approximately 33% of all products purchased through e-commerce channels are returned.
Up to 30% of soft goods purchased online, such as apparel and footwear, are returned.
Less than 10% of hard goods purchased online—like toys, gifts and housewares—are returned.
23% of e-commerce returns are caused by a mispick
22% of e-commerce returns are due to the product not matching its online description.
20% of e-commerce returns are because the product received is damaged.
Returns peak during holidays, with UPS expecting online returns to grow by 15% during this season.
The Return Goods Management Headache
Returned goods are a headache in general, am I right?
On Black Friday, I purchased some sunglasses from an online retailer. When the order arrived at my house, I realized they shipped the wrong pair. I contacted the retailer who promptly replied and said, keep those ones and we'll send you the correct pair, no problem! Sweet right? Because of their picking mistake, I made out with an extra pair of sunglasses. For the company, it was easier and less expensive to let me keep the incorrect sunglasses than receive the mispicked item back at their facility, process it into inventory and reship the correct pair. They also gave me, the customer, a good experience as a first time buyer.
With the amount of money spent during the holidays, post-holiday returns are even more significant. Without a returns handling strategy, your returns management process is likely ineffective or inefficient. Reverse logistics should not be overlooked. Returned goods take up unplanned space in a facility and take time to process back into inventory. Reverse logistics can have an enormous impact on your bottom line.


The Simple Returns Management Solution
While no one wants to handle returned goods on a regular basis, having a simple process for returning items increases customer satisfaction. When the customer's experience is a pleasant one, they are more likely to make repeat purchases, even if they already returned something.
Deploying affordable, flexible automated, goods to person storage and retrieval technology can simplify return logistics processing. Returned goods can be managed as another form of inbound shipping through efficient routing and restocking items to minimize inventory costs, labor requirements and space demands.
As you already know, the first handling step of receiving and processing returned goods is decidedly manual. Based on a variety of factors—including the condition of the item, its age, visible defects or damage, seasonal category and others—returned items are then assigned a disposition destination. Classifications might include: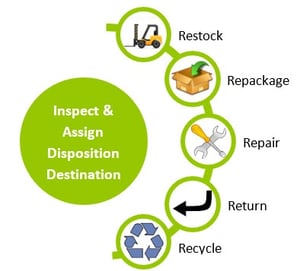 Restock and return to inventory for immediate sale.
Repackage for re-sale in a secondary channel, such as a discount retailer's online or brick-and-mortar stores.
Repair, refurbish or remanufacture—particularly for electronics such as mobile phones and tablet computers.
Return to supplier, vendor or manufacturer—seasonal items purchased with a sales agreement stipulating that the source will accept unsold inventory.
Recycle, reclamation or disposal.
Managing this returned goods process is cumbersome, but it's only the beginning. To move returned items through the disposition process quickly, and avoid wasting space in the warehouse for temporary storage, utilizing an automated storage and retrieval system (AS/RS) can speed up processing time to maximize asset value recovery in a smaller footprint, while reducing cycle times and labor-handling costs.
AS/RS to the Rescue
There's a wide variety of AS/RS technologies on the market – some of which come with a hefty price tag. However, the most affordable and flexible solutions are horizontal carousels, vertical carousels and vertical lift modules. The selection of the most appropriate AS/RS for your reverse logistics operation is dependent on a variety of factors, including number of inbound returns received per day, the size variability of the returned goods, and the desired rate of throughput for returns.
By applying flexible and affordable automated storage and retrieval systems—such as horizontal carousels, vertical carousels, VLMs and VBMs—with integrated inventory management software to your return logistics function, you will benefit from:
A significant reduction in inventory costs
A significant reduction in return goods handling time
A significant reduction in the amount of labor required to process returns
A significant reduction in the amount of space designated to house returned items
Fast and simple sortation of items per their disposition destination
Faster crediting of customers
Quicker return to inventory for resale, including the ability to use the returns area as a forward pick zone

If you're new to ASRS and would like to learn more from benefits to costs, check out our Intro to ASRS post!